Description
LG 4K ULTRA HD OLED TV is here. Gone are the backlights, diffusers and other complex structures of LED/LCD televisions. LG OLED TV redefines television to create a unique sense of realism. This is the TV you've been waiting for. It combines OLED technology with 4K Ultra High Definition for a truly unique and mesmerising viewing experience. Order for this LG TV online from Jumia Kenya and have it delivered to you.






Perfect Black

Amazing picture quality starts with the deepest blacks. With an infinite contrast ratio, you'll see detail in the dark scenes in movies that LED/LCD TV's just can't deliver. No other TV can beat the pure black of OLED.
Amazingly Vivid Colours

Indulge in exquisite, nuanced colours that exceed the industry's sRGB colour standard in Wide Colour Gamut mode. When colour this spectacular leaps from a pure black backdrop, you'll know you're watching something very special.
Self-Lighting Pixels

The key to OLED's incredible picture quality is the way light is produced. OLED has self lighting pixels, as opposed to whole panel backlighting used in conventional LED/LCD TV's. This means the pixels can switch on and off individually, only producing light where it's required. And when is a pixel is turned off, guess what? It's black! What this does is allow an infinite contrast ratio, producing brilliant whites and the darkest blacks for a picture of unbelievable depth.


Immersive Curved Screen

When style is of the essence in your home, the LG Curved OLED TV makes a real impact. With its subtle inward curve, these screens delivers an immersive viewing experience.
Sound Design by Harman Kardon

The EG510T OLED series boasts highly refined sound quality, realised in collaboration with harman/kardon, one of the leading audio solutions in the industry. With the full impact of sound, your viewing experience becomes a captivating audio visual experience.
Elegantly Slim

LG OLED TV's slim design combines function and fashion in a supreme show of elegance. Enjoy watching the incredible technology that is Australia's first and only 4K Ultra HD OLED TV series.
OLED Motion Clarity

The response time of the LG OLED TV is 1000 times faster than LG LED/LCD TVs. This allows the viewer to enjoy fast moving scenes with minimal blur. How good will the big game look!
Quad Core Processor

Built into this TV is a Quad Core Processor. This is the engine behind webOS Smart TV that allows fast loading of apps and menu's, as well as multi-tasking between apps. The result? Quick access to the content you love most.
WebOS 2.0

LG webOS 2.0. Uniquely engineered, it's Smart TV made simple. This TV also features webOS 2.0, our Smart TV operating system that's been updated in 2015 for even quicker and simpler access to content you love most. This is our next generation technology. 
SmartShare™

Seamless sharing of your favourite content. Browse and share files from connected devices in your home network with LG Smart Share™. This includes Android phones and iPhones.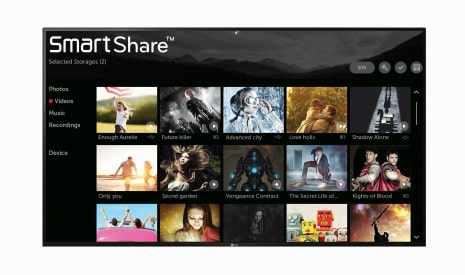 Cinema 3D

Bright 3D pictures are made possible by our Cinema 3D technology. You can enjoy 3D TV in your home the way 3D was meant to be, just like at the movies.
WI-FI BUILT IN

Connect directly with your Home Wi-Fi network. Wi-Fi Built-In TVs have an on-board Wi-Fi chip allowing easy connection to your home Wi-Fi network without any additional hardware.
Miracast

This TV has built in Wi-Fi and the ability to mirror your Miracast enabled smartphone's screen, so you can share content to everyone in your living room.
Technical Specifications
Display
Screen Size55″
Resolution3840 x 2160
Display TypeSelf-Lighting OLED
Pixel StructureWRGB
Colour Depth10-Bit (Native)
Wide Colour GamutYes
Ultra Luminance TechnologyYes
Response Time0.002mSec
BROADCASTING SYSTEM
Tuner : MPEG-2/4 DVB-T (HD)
Number of Tuners : Single
Video
6-Step UpscalingYes
Real Cinema 24pYes
Picture ModesYes (9 Modes)
TruMotionYes
Dynamic Colour EnhancerYes
3D Specification
3D TypeCinema 3D (FPR)
Audio
Speaker Systemharman/kardon® design
Sound ChannelsStereo (2-way, 4 speakers)
Audio DecoderDTS/Dolby Digital/AAC/PCM
Audio Output20W Total
Surround SystemUltra Surround
Sound ModeYes (6 Modes)
Smart Sound ModeYes
Audio Return ChannelYes
Convenience Features
Smart+ TV Operating SystemwebOS 2.0
Web BrowserYes (Internet connection required. Internet usage charges and conditions apply. WebOS internet browser supports HTML5, VP9 and HEVC.)
Magic Remote VoiceYes (Voice recognition feature is not available in all languages and dialects. Actual performance may vary depending on the language spoken and surrounding environment including ambient noise.)
ProcessorQuad Core
MiracastYes 
Time MachineYes 
Intel Wireless Display (WiDi)Yes (Intel WiDi enabled PC must be in range of the TV.)
Smartphone Remote AppCompatible 
Universal RemoteYes (HDMI connected BD Players, Set-top/Cable box, Sound Bar and HTS) (Some brands not supported, check product for details.)
My ProgrammesYes
Simplink (HDMI-CEC)Yes
Smart Share (DLNA)Yes
Wireless Sound SyncYes (Uses Bluetooth 3.0 technology to send audio to compatible LG home audio products)
4K Ultra HD StreamingYes 
USB Video Playback FormatsDivX (XViD, H.264/MPEG-4 AVC)/WMV/AVI/M4V/MOV/3GP/3G2/HEVC 60Fps (up to 2160p)/MKV/TS/TP
USB Music Playback FormatsMP3/WAV/OGG/WMA/DTS/Dolby Digital
USB Photo Playback FormatsJPEG/PNG/BMP
Wi-Fi Built-InYes (802.11 a/b/g/n)
EPG (SI – 8 days)Yes
User GuideYes (Built-In)
Side Connections
HDMI InputYes (3) (All HDMI ports support HDCP 2.2 and 60fps @ 2160p.)
USB 2.0 InputYes (2)
USB 3.0 InputYes (1)
Headphone (3.5mm) OutputYes (1)
Rear Connections
RF Antenna InputYes (1)
Digital Audio Out (Optical)Yes (1)
Composite/Component InputYes (Shared)
LAN PortYes (1)